AMERICANS MORE WILLING TO RIDE IN SELF-DRIVING CARS
Self-driving vehicles are a major topic among American motorists. According to a new AAA survey, 63 percent of U.S. motorists are afraid to ride in a self-driving car, a significant decrease from 78 percent in early 2017. Millennial and male drivers are most willing to purchase a vehicle with semi-autonomous features; however, over half reported there is still a fear associated with riding in a fully autonomous vehicle.
"Consumers should educate themselves concerning new car technology to fully understand the pros and cons," said Montrae Waiters, AAA spokeswoman, The Auto Club Group. "Self-driving and semi-autonomous vehicles present drivers with more options than ever, and as Americans get more comfortable with their features, safety should always be top of mind."
While riding in self-driving vehicle is a futuristic concept for most, testing of these vehicles in the United States means that sharing the road with an automated vehicle is an increasing near-term possibility. In this situation, drivers remain leery of self-driving vehicles. In AAA's survey, only 13 percent of U.S. drivers report that they would feel safer sharing the road with a self-driving vehicle while nearly half (46 percent) would actually feel less safe. Others say they are indifferent (37 percent) or unsure (4 percent).
Additional survey results include: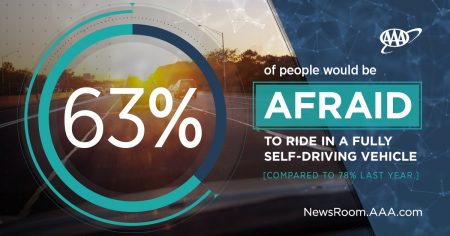 Women (73 percent) are more likely than men (52 percent) to be afraid to ride in a self-driving vehicle, and more likely to feel less safe sharing the road with a self-driving car (55 percent versus 36 percent).
Millennials are the most trusting of self-driving vehicles, with only 49 percent (down from 73 percent) reporting that they would be afraid to ride in a self-driving car. While the majority of baby boomers (68 percent) still report being afraid to ride in a self-driving car, this generation is significantly more comfortable with the idea than they were a year ago, when 85 percent reported being afraid.
Baby boomers (54 percent) and Generation X (47 percent) drivers are more likely than millennial drivers (34 percent) to feel less safe sharing the road with a self-driving car.
AAA's survey also offered insights as to why some motorists are reluctant to purchase advanced vehicle technology. Most trust their driving skills more than the technology (73 percent). Despite the fact that research shows more than 90 percent of crashes involve human error. Men in particular, are confident in their driving abilities with 8 in 10 considering their driving skills better than average.
"Most drivers still enjoy the experience of getting behind the wheel of their own vehicle," continued Waiters. "Therefore, the safety features in a semi-autonomous vehicle might be more appealing to a driver who is not quite ready to give up the wheel."
New vehicle technology is shaping the future of public transportation. AAA will continue to educate the motoring public on the associated benefits and limitations involved with these new features. Previous testing of automatic emergency braking, adaptive cruise control, self-parking technology and lane keeping systems has shown both great promise and great variation. Future AAA testing will look at how well systems work together to achieve higher levels of automation.
About The Auto Club Group
The Auto Club Group (ACG) is the second largest AAA club in North America.  ACG and its affiliates provide membership, insurance, financial services and travel offerings to over 9.4 million members across eleven states and two U.S. territories including Florida, Georgia, Iowa, Michigan, Nebraska, North Dakota, Tennessee, Wisconsin, Puerto Rico and the U.S. Virgin Islands; most of Illinois and Minnesota; and a portion of Indiana.  ACG belongs to the national AAA federation with more than 58 million members in the United States and Canada and whose mission includes protecting and advancing freedom of mobility and improving traffic safety. Motorists can map a route, identify gas prices, find discounts, book a hotel, and access AAA roadside assistance with the AAA Mobile app for iPhone, iPad and Android. Learn more at AAA.com/mobile. AAA clubs can be visited on the Internet at AAA.com.