Marcelo Gomez, personal injury attorney
Marcelo Gomez, an attorney you want to have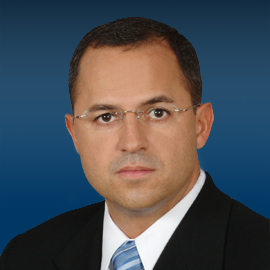 Marcelo Gomez is a founding partner at the SKG (Schiller, Kessler & Gomez) law firm and a successful personal injury attorney. He was born in Colombia, South America and moved to the United States when he was 5 years old. He grew up and spent the majority of his life in Ft. Lauderdale, Florida.
He graduated from the University of Florida in 1989 and received his law degree from the University of Florida College of Law in 1992. Marcelo worked at the Broward County State Attorney's Office in the homicide unit during his studies. After graduation, he worked as a civil litigator with several high-profile law firms. In 2003, he co-founded the law firm of Schiller, Kessler & Gomez, PLC, PLC.
Marcelo Gomez is a member of Florida Bar, the Broward Hispanic Bar Association, an active member of the Academy of Florida Trial Lawyers and a founding member of the Colombian-American Bar Association, an association created to help people in need of legal assistance who cannot afford legal representation. He has been an active volunteer within the Hispanic community and has participated in many free of charge programs for the needy.
He has been hosted on several television and radio programs as being an expert in the area of personal injury law. He also hosts daily and weekly radio programs.
As a lawyer, Marcelo has always given the best of him, providing professional and personal service at high standards.
If you need a personal injury attorney, you can contact Marcelo Gomez at marcelo@injuredinflorida.com. You can also visit the SKG website for more information.
This is a sponsored post but the opinions are completely our own.